This tea cup was a freebie from Meliejen's Design, thanks Melissa!
Border Punch: Martha Stewart,
Scallop Oval: Nestabilities
Stamps: Cuppa Tea Cup, digital stamp from Meljen's Design
Sentiment from MFT Tea For Two ('Curved' before placing on acrylic block)
Tea bag background (Papertreyink anniversary set 2008)
Used glossy accents for the 'tea' bit
To A Tea-Rific Friend!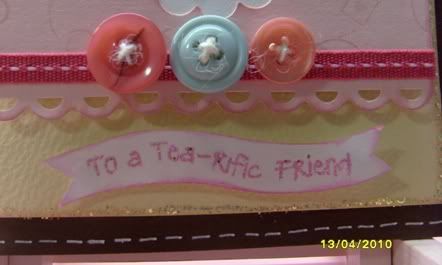 This week's freebie is a cute little car, http://meljensdesigns.blogspot.com/2010/04/freebie-monday-vroom-vroom.html, have some ideas in mind....
{hUgS}
Charmayne